THE PROCEEDINGS OF THE SUSTANABLE BLUE ECONOMY CONFERENCE
Thursday, 29 November 2018
THE PROCEEDINGS OF
THE SUSTANABLE BLUE ECONOMY CONFERENCE
26th -28th November 2018,
Held at the Kenyatta International Convention Centre (KICC)- NAIROUBI – KENYA
The Director of the General Secretariat Miss/ Shireene Galal and the rapporteur of the Association Mrs. Radhia ElTalbi have attended the Sustainable blue economy conference with the support of theIMO from 26th till 28th of November 2018 in Nairobi , Kenya.
Kenya hosted the first Global conference that discusses the sustainable global blue economy that was held in an international Kinyata center for conferences in Nairobi from 26 till 28 November 2018.
In the presence of the President of the Republic of Kenya Mr. Ohoto Kinayta, the Presidents of African countries , ministers and the General Secretary of the International Maritime Organization Mr: Ki Tak Lim, hosted by Kenya and organized by : Japan, Qatar, Norway, UK,Northern Island, African Union, China, Portugal, Ireland,Oman, European Investment bank, South Africa, Sudan, Afrkasim bank, Nigerian Maritime Safety Authority,Fiji, France, United Nations Development program, FAO, Kenya Commercial bank, World bank, Brand Governing Council, and last but not least Kenya's Authority for Tourism Promotion.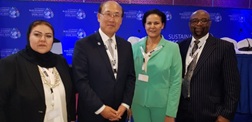 With the title of "Blue economy and the Sustainable Agenda for 2030 ".
There were more than 18, 000 participants from 184 countries, including 7 Presidents and Governments , 84 Ministers and leaders from wide range sectors, including different levels of Governments and Science : The Academic community, the scientific research community, United Nations, International Governmental Organizations, international organizations , business sector entities , the private sector, non-governmental organizations , civil society and citizens.
The participants during the 3 days conference have participated in the discussions that focus on how to achieve sustainable usage and how to conserve water resources, including oceans, seas, lakes and rivers to improve human well-being, social justice and healthy aquatic ecosystems.
The invitation to attend this grand conference extended to the global community such as Governments and organizations.
Companies, private sector and experts from all over the world have stopped insisting on the sustainable pursuit of the blue economy.
They have been invited to attend , participate ,exchange ideas and point of views, to provide guidance about knowledge , techniques and new innovations and to recommend long term strategies, including experience that can boost cooperation and sustainable projects in economic, social , environmental, technological , scientific and governance aspects of the blue economy.
Workshops for women have been held to support the 5th goal of the sustainable development which is gender equality. The AU has praised the African Women Association WIMAFRICA in western and Central Africa, it has been nominated the AU award during the workshop for its outstanding efforts.
Arab's Women Association in Maritime sector workshop WOMESA in Eastern and Southern Africa that has discussed gender equality within the concept of maritime groups and has given presentations about supporting women in general.
The representative of Nor- shipping company emphasized that the sustainable use of ocean's resources to have a healthy economic growth, improving jobs and the validity of ocean's ecosystems.
Their work depends on the goal number 17 of the sustainable development which is partnership.